Welcome to PATAPON UNIVERSE
We are currently editing you can help by editing and by making pages
What?!? you didnt know that we have a facebook group well its okay because you will know now:
Featured Article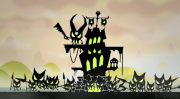 The Bonedeth Brigrade/Bonedeth tribe is one of the main antagonists in Patapon 3. Like the Karmen, they wear masks. Their masks are colored green and black and they are shaped like skulls. Sometimes, monsters fight alongside them. They also seem to have towers and prize tents that are more powerful than both the Karmen and the Zigoton ones. They are the restless soldier corpses of the deceased Aah-Ooh tribe, Led by King Ighl (Covet-Hiss).

Each unit has "deth" in the end, just like the other tribes. The common units are named:

Yarideths (Yaripon) Equipment: Spears and Halberds Tatedeths (Tatepon) Equipment: Swords, Blades and Shields Yumideths (Yumipon) Equipment: Bows, Longbows and Crossbows Kibadeths (Kibapon) Equipment: Spears, Halberds, Horses and Warhorses Megadeths (Megapon) Equipment: Horns and Capes
PATAPON 1 to 3 info
Edit
PATAPON 1
Edit
Items
Miracle
PATAPON 2
Edit
Items
Miracle
Missions
PATAPON 3
Edit
Items
Summon
Spirits
Community content is available under
CC-BY-SA
unless otherwise noted.